11/22/2018 07:00 AM Central
Australian Kuranya is a brand-new essential oil blend featuring essential oils extracted from many powerful plants that call Australia home. The aroma is fresh and uplifting, yet outback-woodsy. The blend is named "Kuranya," the aboriginal word for "rainbow," because each oil comes together to create something more beautiful than the sum of its parts.
Australian Kuranya essential oil blend contains oils from powerful plants found all across Australia—from the luscious, green Tasmanian islands to vast northern deserts. The synergy of each oil gives it a pleasing, earthy aroma and skin-loving benefits that can help cleanse and enhance your natural radiance.
This refreshing blend includes: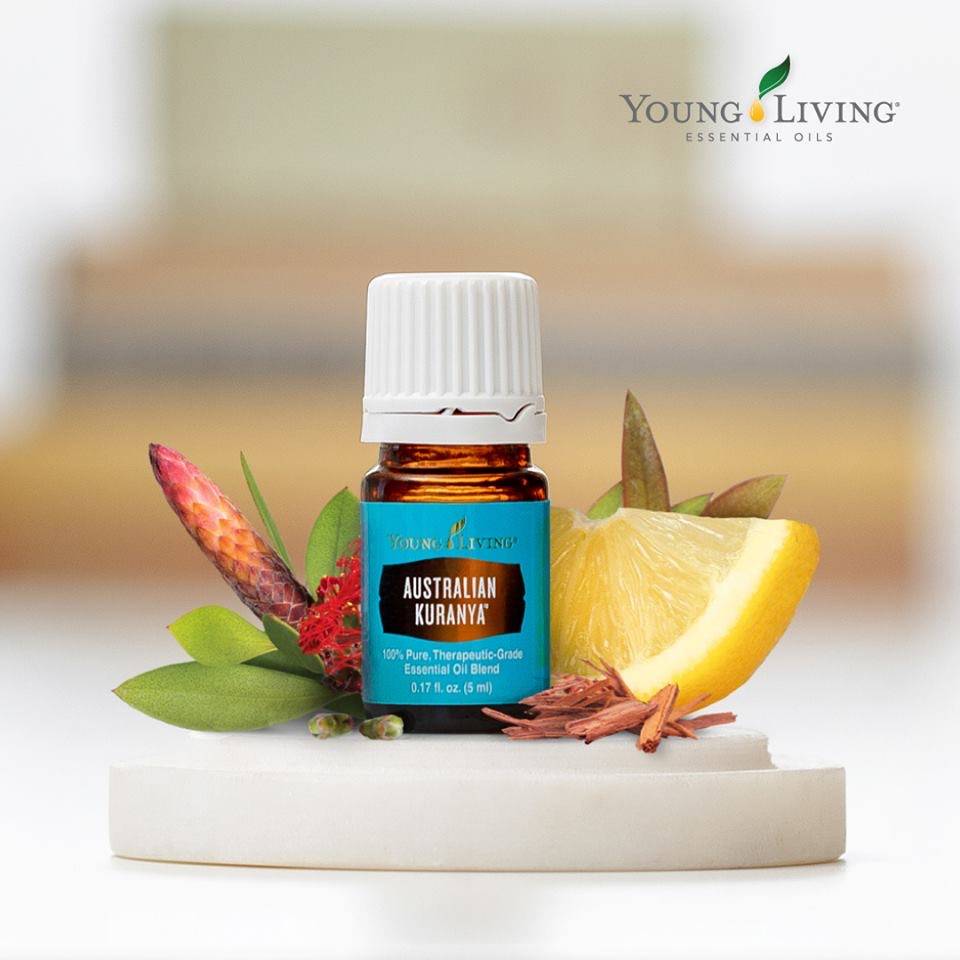 • Lemon Myrtle
• Kunzea
• Blue Cypress
• Sandalwood
• Fennel
• Australian Ericifolia
• Eucalyptus Radiata
• Tea Tree
Australian Kuranya is the first product to carry the D. Gary Young Research Institute seal on its label. Formerly Young Living's Research and Development team, the D. Gary Young Research Institute adopted its new name to honor Gary's memory and legacy. The name is a continual reminder that Gary's vision, expertise, and commitment to quality are forever fully infused into our product research and development efforts. Many of the highly trained scientists in the Research Institute worked side-by-side with Gary in the lab and have absorbed his approach, wisdom, and intentions when it comes to developing new products for Young Living. This seal is an assurance that Gary's tradition of quality and innovation has been upheld through the development and production of every new Young Living product.
You will love Australian Kuranya for its many benefits! Here are some of them:
- Helps reduce the appearance of blemishes
- Conditions and moisturizes skin
- Promotes healthy, glowing skin
- Includes the naturally occurring constituents geranial, alpha-pinene, eucalyptol, and alpha- and beta-santalol
- Promotes a stimulating and rejuvenating atmosphere
- Has air-purifying properties
- Provides an uplifting and grounding aroma
Australian Kuranya is versatile and indispensable for every skin type. Adding it to your daily routine is easy:
- Apply topically with Rose Ointment™; refresh skin when needed.
- Mix a few drops with your moisturizer to enhance the natural radiance of healthy-looking skin.
- Add to V-6™ Vegetable Oil Complex and use in a massage for an invigorating, soothing experience.
- Rub on the bottoms of your feet in the morning to jumpstart your day.
- Apply to your chest for a breath of fresh air and a refreshing respiratory experience.
- Add to Thieves® Household Cleaner for a cleaning boost.
- Diffuse for a fresh aroma to start your day off right and to uplift your mood any time of day.
Who is excited to try Australian Kuranya?
~~~~~~~~~~~~~~~~~~~~~~~~~~~~~~~~~~~~~~~~~~~~~~~~
If you are on ER and would like to save EVEN MORE!! GET '
YLGO
'
Get the benefits of Young Living delivered every month
Convenient automatic ordering

Discounted shipping

Discounted product packages

Up to 25% back in points toward free products
Top priority on order processing and expedited delivery

Includes 12 Essential Rewards shipments at no extra cost
Includes 24 additional shipments withYL Go +
Discounted flat rate overnight shipping
Annual membership fee good for 12 months