Dec 11, 2018 04:41 PM Central
Are you new to Savvy Minerals by Young Living make-up? Are you used to wearing liquid foundation? Do you not wear make-up very often? Knowing what mineral make-up product to apply when can sometime be confusing! We are breaking down application and making it simple with this post and the entire class!
This graphic demonstrates the quick and easy application of Savvy Minerals in 10 easy steps!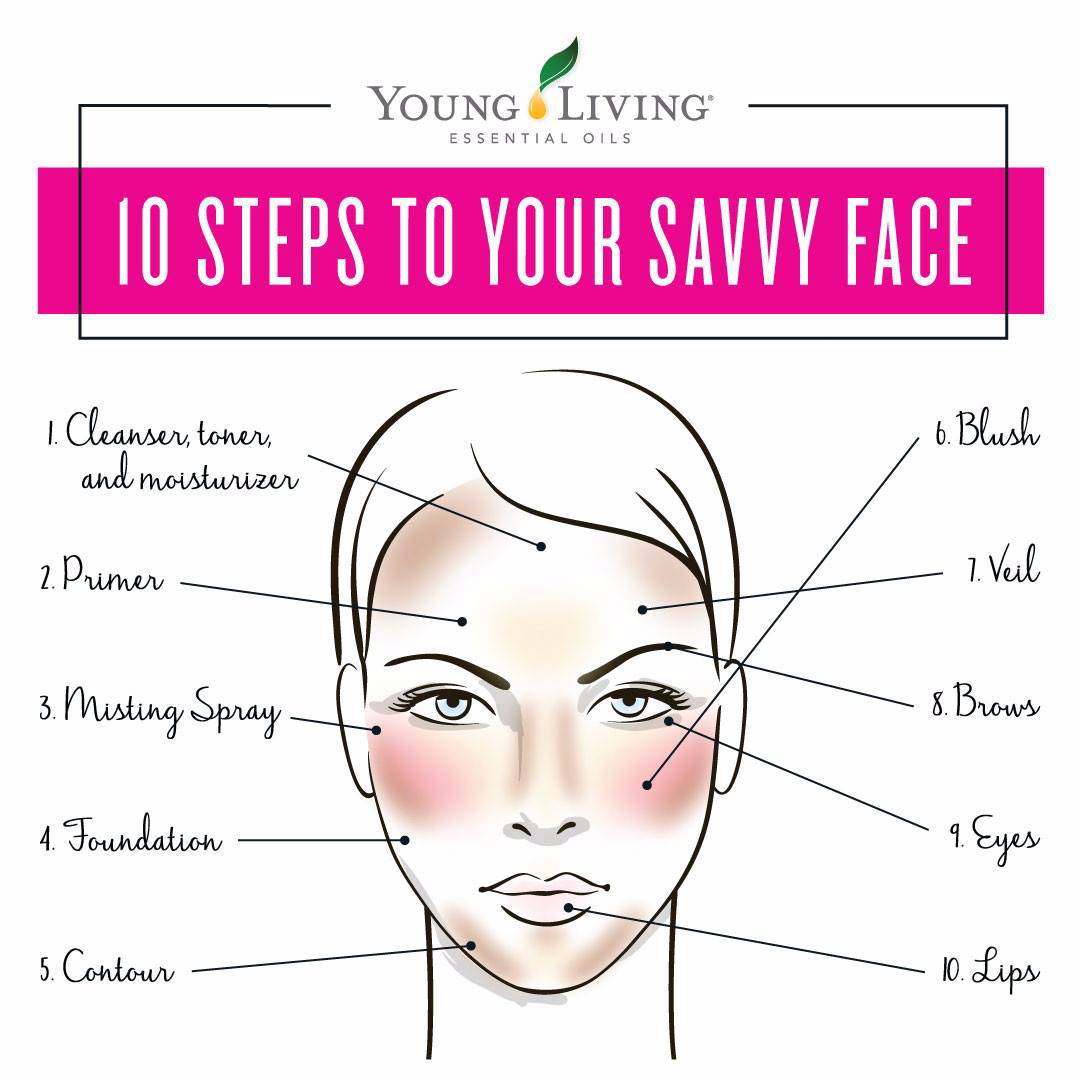 Everyone applies Savvy Minerals slightly different depending on what works best for them, so we encourage you to find an order that works best for you! You don't have to apply a full face every time you wear make-up, you may only use a few steps and that's ok! You can do whatever makes you feel beautiful!
We ALWAYS recommend following the first three steps in order to really enhance your Savvy durability and application.
Ten Steps to a full Savvy Face:
1. Cleanse, tone, moisturize- Make sure to apply make-up on a clean face! Skin care matters!
2. Primer- A primer helps prepare the skin for makeup application by helping reduce the appearance of pores and wrinkles. It also helps foundation adhere to the skin resulting in less foundation used and better overall coverage. Wait a few minutes for your primer to soak into your skin before applying foundation.
3. Spray your brushes with misting spray- the misting spray is used on your brushes to help the foundation apply evenly, NOT as post-application setting spray.
4. Foundation- Apply your foundation.
5. Contour- Helps to add dimension and definition to your natural face shape.
6. Blush
7. Veil- Use Veil to highlight the high points on your face or as the final step to blend your face!
8. Brows- Fill in your eyebrows with one of the multi-tasker shades or a Dark foundation shade.
9. Eyes- This includes your preference of eyeshadow, eyeliner, and mascara.
10. Lips- Apply your favorite Lip Gloss or Lip Stick shade!
In this class, we are going to break down each of these 10 steps to give you tips and tricks for application, ingredient knowledge, and product education. Buckle up! It's going to be a fun ride!
What order do you apply your Savvy? What are your top 5 favorite products? Tell us in the comments below.