Dec 17, 2018 11:29 AM Central
The
first step to flawless makeup is having a good skin care regimen.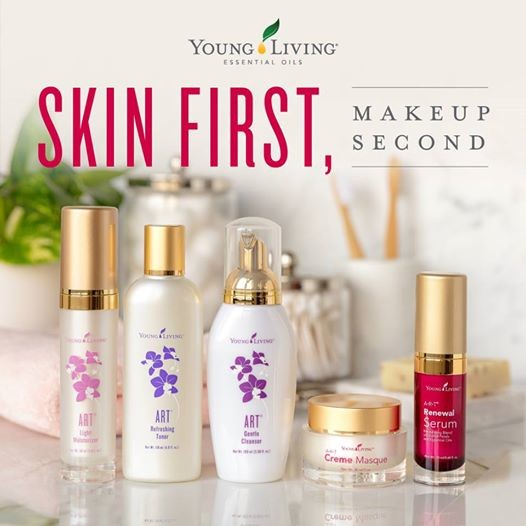 Good skin is the gateway to your makeup looking its best. Since the skin is your largest organ, it needs regular attention to stay looking healthy, young, and clear. A proper skin care routine includes cleansing, toning, treating, and moisturizing.
If you are unhappy with your makeup coverage, chances are your skin is at the root of the issue. This is why it is very important to invest in skin care that supports healthy-looking skin and enhances its natural radiance! You can effectively support healthy skin by using plant-based skin care products that are free from parabens, phthalates, synthetic fragrances, and other harmful ingredients.
Start your skin care routine now! Find products that work best for your skin type and be consistent in using them! Consistency is key! Your skin cells regenerate every 28 days, so you need to consistently use a product for at least that long to really see the results. Consistently taking care of your skin will show over time.
Cleanse:
Cleansing the skin is the first step in maintaining healthy-looking and -feeling skin. Cleansing helps to remove buildup from dirt, oil, and other environmental particles. Skipping cleansing can cause textural issues and dullness and can leave the skin unable to properly regenerate itself overnight. This can lead to breakouts and other unwanted issues. Make sure to clean your skin morning and night and never sleep with your makeup on, even if it is mineral makeup.
We also recommend using a scrub, like the newly reformulated Satin Facial Scrub™, around two times a week and following up with the ART® Hydrating Mask.
Young Living has amazing plant-based facial cleansers for you to choose from. ART Gentle Cleanser, Orange Blossom Facial Wash, and Mirah® Luminous Cleansing Oil are great options to explore when trying to find a cleanser that works best for you. ART Gentle Cleanser promotes glowing skin and is infused with essential oils like Frankincense, Royal Hawaiian Sandalwood™, Melissa, Lemon, and Lavender. Orange Blossom Facial Wash is hypoallergenic and leaves behind no pore-clogging residue, while simultaneously removing dirt and oil. This product is great for those with oily or Blemish-prone skin. Mirah Cleansing Oil is an oil-based cleanser that can be used in a double-cleansing routine or by itself. It is packed with essential oils, including Sacred Sandalwood™, Rosemary, Bergamot, Ylang Ylang, Geranium, Lemon, Coriander, Tangerine, Jasmine, Roman Chamomile, Palmarosa, and Rose! It is a very gentle cleanser and great for those with sensitive skin.
Tone:
Toners are applied after the skin has been cleansed and before it is moisturized. Toners are designed to help restore the skin's pH level. pH levels indicate the acidity level of your skin. The pH scale runs from 0-14, and 7 is considered neutral, which is ideal for your skin. Toners also help to balance your skin, so it can better absorb your moisturizer and prepare it for the next step in your skin care routine.
Young Living has one toner, which comes from our popular ART skin care system. The ART Toner helps reduce the appearance of pores, refreshes the face, and is infused with Peppermint, Royal Hawaiian Sandalwood, Frankincense, Lavender, Lemon, and Melissa essential oils.
Treat:
Many individuals have certain issues on their face that they like to treat on top of a typical cleansing, toning, and moisturizing routine. This is where wrinkle creams, eye creams, Blemish treatments, and added moisturizing products come into play. After the skin is toned, "treatment" products can be applied. You want to apply treatment products before a moisturizer because the moisturizer will create a barrier on the skin.
Young living has a few different products you can add into your skin care routine. Boswellia Wrinkle Cream, Wolfberry Eye Cream, Essential Beauty™ Serum, Maximum Strength Acne Treatment, ART Beauty Masque, and ART Renewal Serum are some of our favorites. Add your eye cream or serum of choice to skin that is mature, delicate, or needs some extra moisturizing to keep a youthful glow.
Moisturize:
As we age, our bodies are less able to retain moisture. This is one of the many reasons why using a moisturizer is a vital step in proper skincare. Without proper moisturization, your skin can look much older—wrinkles are more prominent, and the overall tone is much duller. When our skin is properly moisturized, it appears more plump, full, radiant!
Young Living has several moisturizers for you to pick from: ART Intensive Moisturizer, ART Light Moisturizer, Sheerlume™, Orange Blossom Moisturizer, and Sandalwood Moisture Cream (this can also be used as a treatment product).
Society is constantly telling us that makeup should be used to "cover up" our imperfections or make us look a certain way. Makeup can be a great tool, but it should not be used to change us or make us look like something that we are not; use makeup as an empowering tool to enhance your natural beauty—the beauty that is already there! Letting the real you shine is your best look, and Young Living has created an entire line of skin care products to help you radiate with your natural beauty!